It's time to link up with Katie at
Loves Of Life
!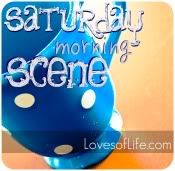 This morning, Aiden is eating apples whole! Well, sort of. Instead of itty bitty pieces, he gets wedges. What a big boy! Watching him figure out which side to eat was pretty cute. But then again, pretty much anything he does is cute. After breakfast, he went for a Harley ride. His favorite thing to do on the Harley...chase the dog.
And then, this happened. I realize it's kinda mean to have not rescued him right away. But it was just too cute!
Hope you are having a wonderful Saturday!